Find.it South Tyrol – first find the differences, then the locations!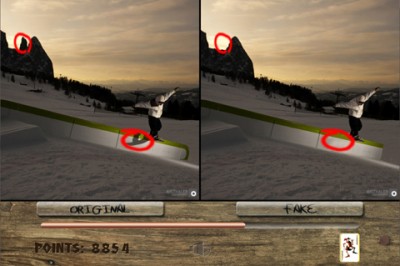 The Gameplay
Find.it South Tyrol is the new "find the difference" – game with many beautiful photos about South Tyrol and the Dolomites UNESCO world heritage. The duty of the player is to find the five differences in two opposed photos. The available time shortens so from level to level. If a difference could not be found, for the player there are available in total 3 jokers.
Assistence for small sized displays

So far, so good – but what, if you have a phone with a small sized display?
No problem: on devices with small displays there is available also an optional zoom button, witch allows to zoom in a difficult area for some seconds.
But use this feature wisely – its available only once per level.
This zoom-in-function is disabled on larger displays.
After unlocking a photo...

Further Extras…

If the player solved a level, he unlockes the level for the menu item "Locations". A survey of all photos is awaiting him there. If a photo has been unlocked, he can navigate to the corresponding page of the photo album. Here he finds some additional information about the photo and a brief description. The photos here can also be seen in full size. For most of the photos you can see on a map also the location, where the picture was recorded. So you have the possibility to visit the locations.
The game disposes also of an online highscore with top-50-ranking list, where players can measure themselves worldwide.

...you can get additional informations in the photo album...

...and it can be watched in fullsize...

...even like the map, that shows the location, where the photo was recorded.

Top 50 Online-Highscore
Features:
Timeless fun for all ages!
More than 100 stunning high res photos of South Tyrol.
Zoom in button for devices with small displays.
Online highscore with top-50-ranking list.
Additional information for each photo available for free
activation.
Map with display of the recording location of the photos (if GPS data is available).
No advertising.
Reviews
Super "Find-It" Variante

"In bester Tradition der Photo-Play Arcade Maschinen. Sauber umgesetzt für Android, mit tollen Fotos aus Südtirol. Achtung: kerniger Schwierigkeitsgrad!"

Holzer Hanspeter
Top!

"Super find-it !!!!!!!!!!"

Erl Muehli
Comments, Requests and Bug reports
Please send your comments by pressing the corresponding button on the right. For reporting bugs, please enter also your email adress: